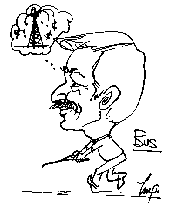 L. F. (Buz) Ivanhoe was Founder of the M. King Hubbert Center for Petroleum Supply Studies at the Colorado School of Mines whose mission is to assemble, study, and disseminate global petroleum supply data. He was president of Novum Corp., Ojai, California, a registered geologist, geophysicist, engineer and oceanographer with 50 years domestic and international experience in petroleum exploration with various private and government oil companies. He was associated with Occidental Petroleum from 1968 to 1980 where he was senior advisor of worldwide evaluations of petroleum basins from 1974-80. On leaving Oxy, he moved to Santa Barbara and formed Novum, an international energy exploration consulting firm. Mr. Ivanhoe authored numerous papers on various technical subjects, including some 50 on the evaluation of foreign prospective basins and projections of future global oil supplies. For more information, read the Center's Newsletters:

In the January 1997 newsletter, Mr. Ivanhoe stated [originally from World Oil, November 1996]:
It is concluded that the critical date per USGS data when global oil demand will exceed the world's production will fall somewhere between 2000-2010, and may occur very suddenly due to unpredictable political events.

This is within the lifetimes of most people now alive. This foreseeable energy crisis will affect everyone on earth.

Governments will have first call on oil supplies during global shortages.
To better understand oil in Latin America, see the Hubbert Center Newsletter #99-3: "Petroleum Positions of Brazil and Venezuela." These countries represent the extremes in Latin America -- Venezuela as exporter with small domestic consumption, Brazil with consumption far exceeding its production.
In his papers, Mr. Ivanhoe stressed the important distinction between resources and reserves.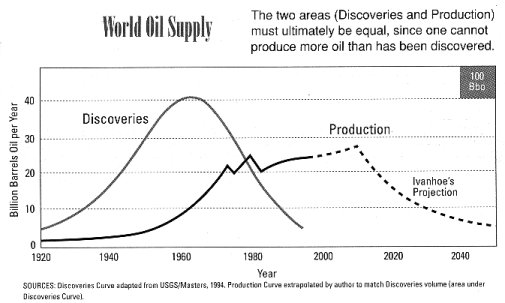 Get Ready For Another Oil Shock!
"A petroleum consultant warns that we've already found almost all the oil there is, and we're using it up fast. We must therefore anticipate that there will be less petroleum entering world markets within the foreseeable future."
from THE FUTURIST, January/February, 1997
Future world oil supplies: There is a finite limit
"Unscientific reserve claims for political reasons may obscure the fact that most large, economic oil fields have been found, and permanent oil shock is inevitable early in the next century."
from WORLD OIL, October 1995