Duke Energy President Speaks at North American Energy & Power Conference
At the RBC Capital Markets 2003 North American Energy & Power Conference on Tuesday, Sept. 16, 2003, in Houston, Duke Energy President and Chief Operating Officer Fred Fowler had these things to say about natural gas (emphasis, webmaster):
Demand growth for natural gas remains steady. The Energy Information Administration predicts that overall demand will remain flat in 2003 compared to 2002, with an expected 1 percent rise in demand for 2004. Over the longer term, demand for natural gas is expected to grow about 1.8 percent annually through 2015.

While industrial demand fell recently in response to higher prices, longer-term industrial demand is projected to gradually increase.

Demand for natural gas as fuel for electric generation is increasing, as new gas-fired plants come on line. Of course, overall demand for natural gas for electric generation, and residential and commercial space-heating is very dependent on weather – and we're hoping to see cold weather return to key regions in a few months. At Duke Energy, we're certainly doing our part to invigorate the natural gas marketplace:

This year, we will invest about $650-700 million on some 20 different North American pipeline expansion and maintenance projects.
By year-end, these and recent years investments will result in additions of more than 1.1 billion cubic feet of pipeline capacity to Duke Energy's transportation system. And – we have a number of pipeline projects in development that will increase our long-term capabilities.
Geographically, our projects will address customer needs in the Pacific Northwest, Gulf Coast, Mid-Atlantic, Northeast and New England areas.

Talk about an impending natural gas supply crisis has tempered recently, and by all indications, we're well on our way to closing the gap and should be well positioned for the winter heating season.

We're seeing a pattern of robust net injections into storage. The American Gas Association has stated that the recent pace of injections indicate that historic levels are "very attainable and likely conservative for beginning inventories by November 2003."

Rig count is steadily increasing, up to 944 last week from 733 a year ago. While it appears that gas prices will stay high relative to historical norms, it does not appear that prices will be so high as to continue demand destruction.
Strange that Duke Energy management applauds cold weather and higher rig count. Colder weather means quicker exhaustion of a finite resource. More rigs in the context of flat production means that wells are yielding less and less. "Talk about an impending natural gas supply crisis has tempered recently." Does talk about the long term future of natural gas reserves temper when availability is assured for this winter heating season?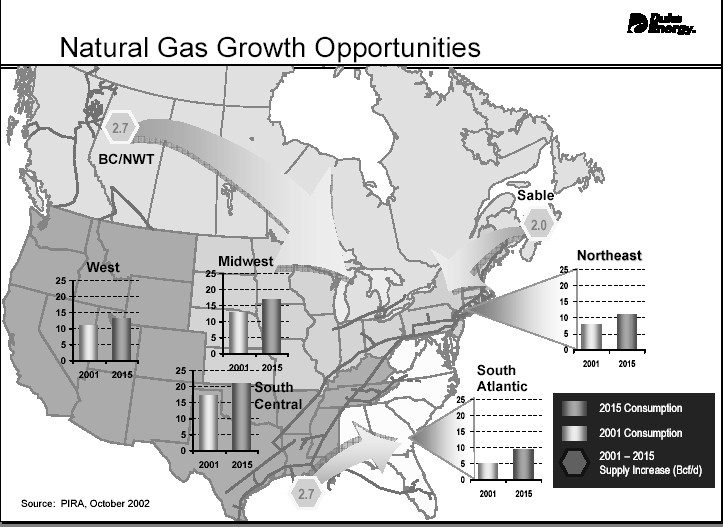 Source: Petroleum Investor Relations Association, which lists these objectives on its website:
To evaluate and establish policy positions and guidelines that encourage the highest ethical and moral standards in all aspects of investor relations;
To cooperate with NAPIA ["an organization of investment professionals specializing in the petroleum industry and the securities of its component companies"] and other associations, agencies and societies to enhance their interest and understanding of the oil and gas industry.
Is it ethical to predict increasing supply on the basis of increasing rig count? Can one presume that geologists play a role in investors' understanding of the industry?



A copy of the slide presentation and remarks are available on Duke Energy's investors Web site.