Unforeseen: a balancing item of Reserves and Yet-to-Find to yield a rounded world total Ultimate
Mechanics of country assessments
Each producing country is assessed separately in the following steps.
Past annual production is input from the data published annually by the Oil & Gas Journal, after the removal of any identifiable Non-Conventional.
The Proved Reserves as published by the Oil & Gas Journal and World Oil are input.
The Oil & Gas Journal values are adjusted to remove a) any identified Non-Conventional and b) the total production for any period of implausible unchanged reports, which in some cases run to several years.
The Adjusted value is multiplied by a factor to deliver Assessed Reserves, which is a "best" estimate of future production from known fields. Proved Reserves refer to the estimated future production from wells in current developments as reported for financial and sometimes political purposes, which may or may not equate with what the fields will actually deliver over their full life-span, namely the Assessed Reserves (also termed in industry parlance as Proved & Probable or as having a Mean Probability)
The assessed Ultimate is input, based on experience and judgement
The midpoint value is calculated (Ultimate/2) to determine the future depletion method. In Post-Midpoint cases, future production as calculated at the Current Depletion Rate is applied; whereas in Pre-Midpoint cases, production is modelled to increase at between 0 and 5% to Midpoint, depending on local circumstances, and then depleted at the Midpoint Depletion Rate. Since Midpoint in most such countries is within a few years, the assessed rate of increase is not critical.
Several other parameters relating to drilling activity, giant fields, and discovery trends are input.
Lacking access to the industry database, it has not been possible to use the various statistical techniques to extrapolate discovery trends, determine field size distributions, and relate production with earlier discovery trends.
Data on reserves and production in the public domain are conflicting and very unreliable as a result of ambiguous definitions and lax reporting practices. Accordingly, we can say with absolute assurance that these forecasts are wrong. The real question is: by how much? That said, there are grounds for hoping that this assessment would not prove too far wide of the mark if compared with a full-blown study, based on valid industry data.
Demand Scenarios
Past assessments have considered a Base Case whereby the demand for oil continued to rise until the share coming from the Swing Countries reached a threshold sufficient to trigger an oil price shock that would curb demand, giving a plateau of production until Swing spare capacity was exhausted.
Non-Swing conventional production reached a peak in 1997, which rationally should have led to a gradual increase in price as Swing share rose. But the market over-reacts to small imbalances, such that an Asian recession and other factors were sufficient to depress oil prices during 1998 before they rebounded 300% to end 2000. It now seems that production was then close to world capacity, causing prices to surge into the mid $30s as even the traders began to perceive that there was insufficient supply to maintain the past growth in demand.
Perhaps surprisingly, this price surge, although not extreme , was enough to impose, or at least contribute to, the onset of world recession, which dampened the demand for oil, and reduced pressure on price. Looking ahead, and accepting that the capacity limit was being breached in late 2000, leads to the conclusion that recession is now permanent and deepening, because if the economy were to try to recover, oil demand would soon rise in parallel until it hit the sloping ceiling of capacity that would again trigger an oil price surge, re-imposing recession.
Accordingly, the 2001 Base Case Scenario assumes that production will be flat due to weak demand until the Swing countries can no longer offset the decline elsewhere. Their reserve data are particularly unreliable, and there are hints that the present assessment may still be too generous, given the uncomfortably low indicated depletion rates.
It is assumed that these countries will individually continue to produce at their current share of the region, save that Iraq will increase and Saudi Arabia make up the difference to meet the total call on the region under the scenario. Looking at the situations of the individual countries suggests that the region will have reached its de facto capacity limit of 24 Mb/d by 2010. The Scenario accordingly assumes that this will mark the end of the plateau of world production before long term decline sets in at the then depletion rate.
It is probably misleading to call it a plateau because it will be a period of volatility as recurring oil price surges re-impose recessions and as international tensions grow, possibly including the threatened US invasion of Iraq or Iran or the fall of the House of Saud. But, while military exploits can certainly change the demand, supply and control of oil, it is worth remembering that discovery and depletion are set respectively by what Nature has to offer and the immutable physics of the reservoirs.
It is too early to assess the gravity of the present recession, but ominous signals are certainly delivered by: the collapse of Enron; the failure of Argentine banks, the growing list of mergers and lay-offs, and the fact that US interest rates have been reduced to a 40-year low in a desperate attempt to resuscitate the flagging debt-ridden economy. Attention from all these serious matters has been successfully deflected by the so-called war on terrorism, which many see as more of an act of defiance in the face of recession than having anything particular to do with threats from those disaffected with the global economy.
The true causes of the recession are also unsure and elusive. The flat-earth fraternity would attribute it to financial mismanagement, whereas others see a link with the underlying supply of energy.
The Assessment
Table 1 sets out the assessment of Conventional by country and region, and Table 2 includes the indicated production forecast for both Conventional and Non-Conventional oil and gas, also shown graphically in Figure 1.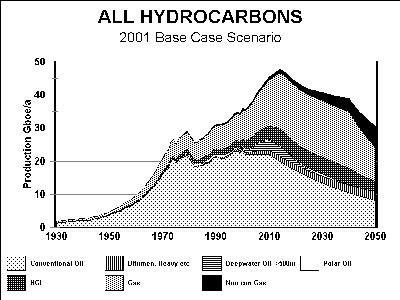 Conventional oil production is shown flat until 2010 when it commences its long-term terminal decline at about 2% a year. The inclusion of Condensate with Conventional oil in this year's assessment increased the total endowment to just over 1900 Gb. This has been rounded up to 1950 Gb by adding some "unforeseen" Reserves and Yet-to-Find, to avoid giving the impression of unjustified accuracy.
The production of bitumen, heavy oil and derivatives is expected to grow slowly, with the bulk coming from Canada and Venezuela. Weak oil prices over the next few years may obviate the need for any crash programme, save perhaps from the standpoint of US security.
Deepwater oil, with an Ultimate endowment of about 60 Gb mainly in the Gulf of Mexico and on the margins of the South Atlantic, is thought to peak at about 8 Mb/d by 2010. This may be optimistic, as costly deepwater operations may be restricted at times of weak oil price.
Alaskan production is expected to decline, whether or not ANWR is opened to exploration. The rest of the polar region is considered to be mainly gas prone, although the possibility of some minor oil discoveries cannot be excluded.
Gas is expected to reach a long plateau from around 2015, reflecting its very different depletion characteristics. It is also expected to yield substantial and growing amounts of Natural Gas Liquid.
Non-conventional gas production is expected to grow gradually coming mainly from the polar regions of Russia and in the form of coalbed methane from the world's coal basins. Methane hydrates, the subject of much misplaced research, are expected to remain as elusive as ever.
While oil prices may be low for a few years from weak demand due to recession, they must eventually firm as essential needs are affected. Low prices are to be seen very much as a mixed blessing because they will allow governments to continue to ignore depletion delaying much needed policies for energy saving and the development of alternative fuels, all of which have long lead times.
As Figure 1 shows, the peak of Conventional oil may have been passed in 2000, if the plateau is as flat as depicted. The peak of all liquids comes around 2010, followed by the peak of all hydrocarbons around 2015. The entry of deepwater production and growing NGL from gas is seen as critical. If they come in as forecast, overall oil production need not fall below present levels for about twenty years.
If, contrary to expectation, the economy should recover and the demand for oil rise to match the past growth trend, then peak would be advanced to around 2005, and the subsequent decline would be steeper.
It is difficult to avoid the conclusion that the World is indeed facing a discontinuity of historic proportions. The Stone Age did not end because we ran out of stone but because bronze and iron proved to be better substitutes. Firewood gave way to coal; and coal to oil and gas, not because they ran out or went into short supply but because the substitutes were cheaper and more efficient. But now, oil production does reach a peak without sight of a preferred substitute.
The remarkable prosperity of the past Century, which was largely built on an abundant supply of cheap oil-based energy, may therefore be coming to an end. It is stressed that we are not about to run out of oil, having about as much left as we have used already, but production is about to peak. The perception of this peak may have consequences that far exceed the growing physical constraints to supply, which will not bite in earnest for twenty or thirty years.
The world's population grew six-fold during the first half of the oil age. Already fertility rates are falling in many countries, so that peak population may come not long after peak oil. Meanwhile there are growing pressures for emigration as the carrying capacity of the more stressed areas is exceeded.
Hydrocarbon Man, now virtually the sole surviving human subspecies, will certainly be extinct by the end of this Century, meaning that the very future of Mankind is therefore at stake. This perhaps explains why oil depletion is such a sensitive subject, which many people, especially those in government, prefer not to know about. But there are many solutions, especially in finding effective ways to use less, provided governments take effective action in time. It is too serious a subject to be left to the whims of an open market built on outdated economic principles.