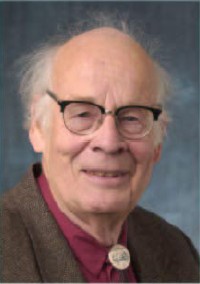 "Over the years, few people have contributed as much to physics education as Albert Bartlett [Professor Emeritus, Physics Department, University of Colorado, Boulder, CO]. Readers of The Physics Teacher regularly use snippets from his "et cetera..." column in their classes, and his celebrated lecture on exponential growth has fascinated well over 1000 audiences. His paper "Physics from the News: Curve Fitting" in the May issue of The Physics Teacher deserves careful reading. Al carefully analyzes the Transportation Department estimate that a single 40,000-kg truck does as much damage to an interstate highway as 9600 cars to illustrate how "real world" physics problems can be incorporated into our physics teaching. Another recent paper by Bartlett and Bruce Mechtly, "Graphical representations of Fraunhofer interference and diffraction" [American Journal of Physics 62, 501-510 (1994)], is also highly recommended." [from APS Forum on Education]
THE GREAT CHALLENGE
Can you think of any problem in any area of human endeavor on any scale, from microscopic to global, whose long-term solution is in any demonstrable way aided, assisted, or advanced by further increases in population, locally, nationally, or globally?

A.A. BARTLETT: January 8, 1996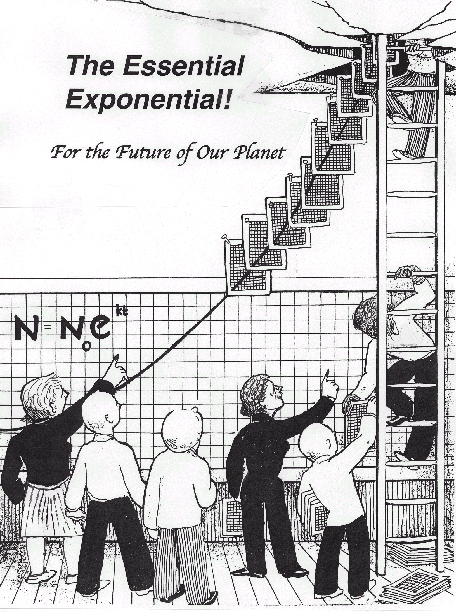 The Essential Exponential! • For the Future of Our Planet, The greatest shortcoming of the human race is our inability to understand the exponential function"
by Dr. Bartlett, University of Colorado at Boulder with endnotes by Robert G. Fuller and Vicki L. Plano Clark, University of Nebraska - Lincoln and John Rogers, Omaha Westside High School
Read Forgotten Fundamentals of the Energy Crisis reproduced by Negative Population Growth on the 20th anniversary of its first publication in the American Journal of Physics in September of 1978.
Read Dr. Bartlett's perceptive analyses which we summarize here:

"MY ANALYSIS, BASED ON GEOLOGICAL ESTIMATES OF THE TOTAL WORLD RESOURCE OF PETROLEUM, SUGGESTS THAT WORLD PETROLEUM PRODUCTION WILL PEAK AROUND THE YEAR 2004 AND THEREAFTER WILL START ITS INEVITABLE DECLINE TOWARD ZERO."
More:
"The related terms, 'sustainable' and 'sustainability' have become popular and are used to describe a wide variety of activities which are generally ecologically laudable. At the same time, the term 'compromise' is heard more frequently because the needs of the environment often are in conflict with the needs of humans. A brief examination of the question of compromise shows that a series of ten compromises, each of which saves 70% of the remaining environment, results in the saving of only 3% of the environment. Judging from the ways in which the terms "sustainable" and "sustainability" are used, their definitions are not very precise, especially when compromises are involved. An attempt is made here to give firm definition to these terms and to translate the definition into a series of laws and hypotheses which, it is hoped, will clarify the implications of their use. These are followed by a series of observations and predictions that relate to 'sustainability.'"

from "Reflections on Sustainability, Population Growth and the Environment" Published in Population & Environment, Vol. 16, No. 1, September 1994, Pgs. 5 - 35. Revised September 17, 1997)
See also Environmental Sustainability
A Video by Professor Bartlett:
Arithmetic, Population, and Energy
Forgotten Fundamentals of the Energy Crisis
Available in VHS for $35.00 (check/money order) from Information Technology Services, University of Colorado, Campus Box 379, Boulder, CO 80309-0379, or with Visa/MC via Tel: +1.303.492.2670.
Index to Articles by Albert Bartlett
Colorado may be repeating California electrical disaster [Jan 2001]
An Analysis of U.S. and World Oil Production Patterns Using Hubbert-Style Curves [Mar 2000]
Boulder, Transportation, and the New Century [Jan 2000]
Colorado and the Population Problem [Oct 1999]
Turnpike Spawns Growth, Taxes, Pollution [Sept 1999]
Bigger Isn't Better in the Public Schools [June 1999]
The World's Worst Population Problem -- (Is There a Population Problem?) [Sep 1998]
Regionwide Planning Will Make the Problems Worse [Sep 1998]
The Massive Movement to Marginalize the Modern Malthusian Message [Spring 1998]
Reflections on Sustainability, Population Growth, and the Environment - Revisited [Jan 1998]
Environmental Sustainability [Aug 1997]
The New Flat Earth Society [Sep 1996]
Biographical Sketch
Articles linked in text above, about or by Albert Bartlett (Hosted Elsewhere)
Forgotten Fundamentals of the Energy Crisis, NPG (Negative Population Growth) [1998]
Environmental Sustainability (same as above) [Aug 1997]
Arithmetic, Population, and Energy, Reference to Video [Jan 1997]
Laws, Hypotheses, Observations and Predictions Relating to Sustainability [1994]
Bartlett Home Page at Analog Press
Browsing Through the Journals, by Thomas Rossing, APS Forum on Education