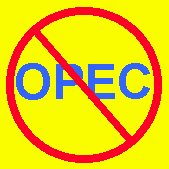 Non-Oil Power Exporting Countries
Once upon a time I started a book entitled Non-Oil Power Exporting Countries ("NOPEC"). Now it's starting to get more real. The race is on!

NOPECountries
Sweden
Costa Rica
Iceland

"Can a single nation completely eliminate its consumption of oil and coal, meeting all of its fuel needs entirely through hydrogen? That's what Iceland plans to do in the next forty years, thanks to the pioneering efforts of Bragi Arnason. Known as "Professor Hydrogen," the University of Iceland scientist has turned his nation into a testing ground for the world's most advanced experiment in renewable energy...."
NOPECities, NOPECommunities
Australia
Solar Cities - A Vision of the Future

"On 5 December 2005 Ministers Campbell and Macfarlane announced that eleven consortia from across Australia have been short-listed at the Solar Cities expression of interest phase. Proponents from Adelaide, Perth, Kalgoorlie, Alice Springs, Townsville, Newcastle, Sydney, Melbourne and Bendigo will be invited to submit a detailed business case and compete to host a Solar City."

NSW's first solar city

"The western Sydney suburb of Blacktown has been chosen to become the first solar city in New South Wales. Under the plan, residents in the area will be given incentives to install solar panels. They'll also be given new 'smart meters' so people can know exactly how much their electricity is costing. It is estimated Blacktown will save up to 300 million dollars a year in energy costs, while cutting down on green house gas emissions."
Canada
Okotoks

"And next spring, the community of Okotoks, south of Calgary, will be home to North America's first solar neighbourhood."
Denmark
Lolland

Lolland CTF – Establish the island of Lolland as a world leading community testing and demonstration platform for renewable energy technologies. Bass is the Municipality of Lolland's strategic partner.