An introduction
Through the period of 1986-1999 energy was backburnered as a cheap, abundant, almost throwaway commodity as slowed economic growth, increased world oil and gas supplies, political intervention and market manipulation brought oil and gas prices to levels, in real terms, of below those at the time of the first Oil Shock in 1973.

Since 1999 there has been a confluence of many real world factors and forces that will make this 13-year "holiday from reality" seem like ancient history. From the urgent climate change debate that has produced little action, through massive growth of oil and gas demand in China and India and continuing incapacity, or refusal by the US to curb its gigantic energy consumption, have come the beginnings of depletion-linked shortfalls and ever higher costs to bring on new supplies of oil and gas.

All world regions are affected by what is essentially a world energy crisis needing only one spark, one crisis in a key producer country or region - fatally the Middle East - to trigger unstoppable change.

In this context 'energy transition' will start to have new meaning and real urgency, as the world scrambles to wake from the sequels of its 13-year 'holiday from reality'. Economy restructuring, de-growth, renewable energy and conservation, regional and local economic autonomy rather than imperious 'globalization' will all become new keywords in the coming period of catch-up and accelerated change.
Articles
Price Signals and Global Energy Transition, Andrew McKillop, draft article for STEM forecasting division, Swedish Energy Agency [September 2003]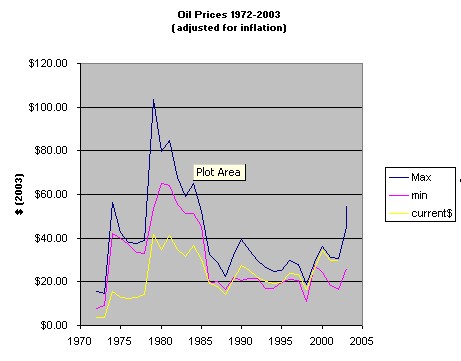 Why We Need $60/barrel oil. Energy transition, as well an ensuring oil and gas supplies in the short-term, both require much higher and more stable oil and energy prices, by Andrew McKillop, published by Arab Petroleum Research Center [August 16, 2003]